KlezKanada present The Klez Dispenser's, Montreal, Quebec, Nov 25, 2007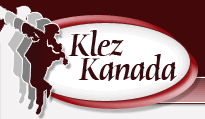 KlezKanada "Groyser Kontsert"
The Klez Dispensers
Sunday, November 25th, 8 pm
KlezKanada presents The Klez Dispensers in concert. The evening is in support of the KlezKanada Youth Scholarship Fund. The concert takes place Sunday, November 25, 2007 at 8pm in the Oscar Peterson Hall (at 7141 Sherbrooke St. W).
The Klez Dispensers are playing one show only, Sunday, November 25th, 2007 at 8pm. For Sponsorship (250), Donor and Contributor tickets, call 514.345.2610 ext 3249 or fax 514.735.2175. Visa is accepted. A partial tax receipt will be issued.
General admission tickets on-sale now, available for $36, only at the Oscar Peterson Hall Box Office at 7141 Sherbrooke St. W, or through the Admissions Network online at www.admissions.com or by phone at 514.790.1245. A limited number of student tickets are available for $18.
Our "Groyser Konstert" (Grand Concert), held biannually, is your chance to see some of the biggest names in Klezmer music live in concert while supporting the KlezKanada Youth Scholarship Program! To inquire about Sponsorship, Donor and Contributor tickets for our concerts, call 514.345.2610 ext 3249 or fax 514.735.2175.
The Klez Dispensers are juicy, fresh and daring. Audiences can't get enough of their exciting performances, impeccable arrangements and versatile improvisations. The band's repertoire includes classic klezmer, Yiddish swing and original compositions. Their sensitive blend of old world and downtown appeals to all generations.
The Klez Dispensers were called one of the 2007 Montreal International Jazz Festival's "Best of the Fest." The band has crammed their sound into New York nooks such as Satalla, Makor, Tonic, and CBGB's, filled Lincoln Center's Damrosch Park and Cape May's music festival, and lent their joyful noise to countless celebrations and festivals. Several members of The Klez Dispensers are "graduates" of KlezKanada's Scholarship Program and are now beloved members of the KlezKanada faculty.
"I will go out on a limb and state that this band, The Klez Dispensers, is the finest young group playing classic American klezmer style that I have heard, both individually and collectively." Pete Sokolow, klezmer legend
The Klez Dispensers brings together an amazing line-up of musicians. Formed in 1998, the band is an eight-piece ensemble comprising clarinet, trumpet, saxophone, violin, piano, bass, drums and vocals. The internationally acclaimed Susan Watts (vocals, trumpet) represents the youngest generation of a klezmer dynasty that reaches back to the Jewish Ukraine of the 19th century. Alex Kontorovich (clarinet, alto and baritone sax) is one of the young rising stars on the NYC and international klezmer and jazz scenes. Ben Holmes (trumpet) is a Brooklyn-based trumpeter who performs regularly with many ensembles. Amy Zakar (violin, mandolin) is a second-generation musician from New York City. She is versed in classical, folk, and jazz as well as klezmer. Audrey Betsy Wright (alto and tenor sax, clarinet) plays nearly every genre of music on her saxophones, clarinet, and flute. Hailing from Austrailia, Adrian Banner (piano) is a performer, composer, and arranger in a wide variety of musical styles. Heather Chriscaden Versace (bass) is active as a bassist, music theory instructor, private lesson instructor, and clinician. She has performed throughout the U.S., Japan, and Colombia. Gregg Mervine (drums) is a freelancer with klezmer, jazz, gypsy, avant-garde, and latin bands between Philadelphia and New York.