KlezKanada workshops, Montreal, Quebec, Nov 25, 2007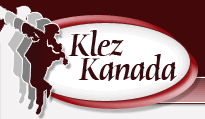 Montreal Klezmer Workshops (presented by KlezKanada)
Sunday, November 25th, 9:30 am - 12 noon.
Who: The Klez Dispensers
Where: Oscar Peterson Hall, Concordia University, Loyola Campus - 7141 Sherbrooke St. West, Montreal
How much: $15
Level: Participants should be comfortable learning by ear or from sheet music. All levels of klezmer experience encouraged.
For more information contact: Avia Moore at 514.993.2842.
An exciting, hands-on music workshop for instrumentalists and vocalists, with your neighbors to the south, New York's The Klez Dispensers. Participants will work in small groups learning repertoire and technique. The session will culminate with the combined ensemble playing a piece at performance level in the klezmer style. Bring your instrument!
Instructors from the Klez Dispensers are: Susan Watts* (vocals, trumpet), Adrian Banner* (piano/keyboards/accordion), Amy Zakar* (violin/strings), Ben Holmes (trumpet), Audrey Welber (clarinet/saxophone), Heather Versace (bass), and Gregg Mervine (drums/percussion).
*KlezKanada faculty