Nice Jewish Girls Gone Bad, NYC, Dec 6, 2007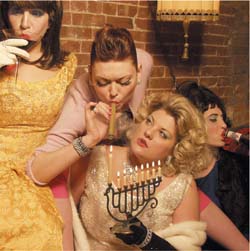 Like a dreidal out of Vegas, Nice Jewish Girls Gone Bad comes home for the holidays, appearing at The Zipper Factory (336 West 37th Street, between 8th and 9th Avenues) for 10 shows beginning Wednesday, December 5th. For three weeks, these Madelahs of Madness will celebrate their five years of mishagas on the road.
Thursday, December 6 at 9:30 p.m.
Tickets are priced at $ 25.00 and are available by phone through Ovation Tix at 212.352.3101 or online at www.zippertheater.com.