Sean Altman in Jewmoungous, Eugene, OR, Dec 6, 2007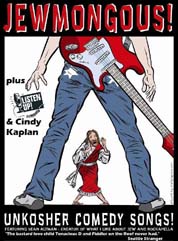 JEWMONGOUS! w/special guest Mike Mendyke.
Thu. Dec. 6, '07
WOW Hall
291 W 8th Ave (zip 97401).
Eugene, OR
7:30pm doors for 8pm show
(541) 687-2746,
$15 advance, $17 day of show
www.ticketweb.com.

JEWMONGOUS "Taller Than Jesus" CD Release Tour
JEWMONGOUS, a solo comedy song concert with occasional guests, is the colicky, uncircumcised brain child of SEAN ALTMAN: the golden-voiced, song-writing wiz behind the pioneering comedy song act What I Like About Jew and the founder and former leader of the vocal group Rockapella. Sean was featured in Time Out New York's cover story "The New Super Jews," (with Jon Stewart and Sarah Silverman) and in the New York Times feature about "the Jewish Hipster Movement." He debuted JEWMONGOUS in 2006 and has garnered press accolades coast to coast (see them below).
JEWMONGOUS' debut album Taller Than Jesus will be released on Christmas Day 2007 (to give Jews something to celebrate that day) but is already available exclusively at http://jewmongous.com. The Taller Than Jesus CD release tour hits 16 cities in December 2007. All faiths welcome, even the faithless.
As a solo artist, Sean has released three albums of bittersweet power-pop and was named "Best Male Artist" in the 2005 International Acoustic Music Awards. The anti-Kurt Cobain" (NY Press) and "absurdly talented performer" (Village Voice) has "killer hooks" (Time Out NY), "a cynical edge" (Philadelphia Daily News), and a "silky tenor voice that produced chills" (NY Times). He is best known as the founder and former leader of the vocal group Rockapella - stars of the TV series "Where In The World Is Carmen Sandiego" - for which Sean co-wrote the famous theme song with his childhood pal, the now-famous David Yazbek. He is a member of the Loser's Lounge series in Manhattan, he sings with Kol Zimra Jewish Acapella and performs charity concerts with Voices For Israel, he pitches Astelin nasal spray on TV as a member of the acapella group The GrooveBarbers, he serenades hospital patients as a volunteer with Musicians On Call, and his songs have been featured in dozens of TV shows. In short, Sean is a highly exposed mensch, albeit a potty-mouthed one.
SEAN EXPLAINS: Why JEWMONGOUS
At my bar mitzvah, Rabbi Gottlieb publicly warned me of the perils of becoming a "bar mitzvah Jew": a Jew for whom that barely pubescent rite of passage is the end of the line. Indeed, from the moment I sent out that final bar mitzvah "thank you" note (to the Himmelsteins, for that bond that won't mature until I'm dead), I gleefully eschewed the spiritual elements of Judaism. Through my twenties I reveled in my great escape from the clutches of my ancestors' faith, even marrying a dreaded shiksa.
But damn him; that know-it-all Rabbi Gottlieb was right: secular Judaism (the ability to discern a bagel from a donut) was not nearly as fulfilling as Satan had promised (and to boot the shiksa dumped me). I felt an increasingly urgent longing to be more connected with my Jewish lineage. But how Synagogues intimidated me and I'd long forgotten how to read Hebrew (and by "read" I mean sound out the words with no comprehension whatsoever). For years I asserted my Jewishness only at Passover seders, where I read the four questions aloud with particular bravado in an attempt to "prove my Jewishness" to the rest of the table (and assuage my guilt).
Then it hit me: the only things I know how to do - period - are sing, write songs and crack wise. In lieu of shul, then, I started writing naughty ditties that celebrate and lovingly skewer the trials and tribulations of the tribe. Presto: suddenly I'm an esteemed purveyor of "Jewish music" and part of the fancy-shmancy "Jewish hipster movement" everyone's talking about. I've never been called "hip" in my life, so I figure God must really want me to write these ferkachter songs. Let's not forget that Jews have produced some of the greatest comedians and song writers, so I have numerous role models for both endeavors.
Marrying a knockout JDate Jewess cemented the deal: I'm back home with the Hebrews and life is sweeter than my bubbe's kugel. The fact that I still know very little about my people hasn't deterred me from penning catchy songs that display my pathetic lack of knowledge. In fact, I've found that not knowing squat about Judaism allows for better lyrics, as I'm not hamstrung by the pesky "truth". So have I managed to shed the sinister "bar mitzvah Jew" moniker Nope. I came of age in the '70s, when "theme" bar mitzvahs were just coming into vogue. My event's theme was S&M, so JEWMONGOUS is really just an extension of my bar mitzvah, simultaneously embracing and rebelling against my heritage and forever trying to tweak the rabbi's beard and yank his talis. I'm still a "bar mitzvah Jew", but at least I'm now "hip". Thank you, Rabbi Gottlieb!
On this tour I'll perform original songs including my fractured Passover story song "They Tried To Kill Is (We Survived, Let"s Eat)", the scientifically accurate "Taller Than Jesus", the venomous anti-Jews For Jesus punk anthem entitled "Jews For Jesus", the Irish drinking song ode to the infamous Blood Libel "Christian Baby Blood", the ska-inflected "What The Hell Is Simchas Torah", the bluesy "My Pact With Satan", the yearning ballad "Another Inch", "Reuben The Hook-Nosed Reindeer" and the swingin" "Blow, Murray Blow", about a virtuoso shofar (ram"s horn) blower so great that his playing purges listeners of all their sins, no matter how despicable. The only cover song in the show is my semiticized version of the Ramones" classic "I Wanna Be Sedated", as I believe that Joey Ramone (born Jeff Hyman) would have wanted it sung that way. Sean
Press Quotes
SEATTLE STRANGER: "The bastard love child Tenacious D and Fiddler on the Roof never had."
BOSTON GLOBE: "Racy, funny and smart and affectionate, for a generation of fully assimilated Jews who grew up on punk rock and 'South Park.'"
PHILADELPHIA DAILY NEWS: "Part of a new breed of Jewish hipster comedy that includes Jon Stewart, Sacha Baron Cohen, Sarah Silverman and Heeb Magazine."
WASHINGTON POST: "Bawdy with a wicked modern streak... Cheerfully crass... Style and guts and a tune you can groove to."
VILLAGE VOICE (New York City): "Hilarious and tuneful. Jew"ll Love it! Very busy, very talented singer Sean Altman."
LA WEEKLY (Los Angeles): "Clearly not averse to taking risks... While his punk-rough approach and vividly iconoclastic lyrics place him in an up-to-date arena, he echoes such forebears as Eddie Cantor and Lenny Bruce and upholds the tradition with biting, bitchen acuity."
PHILADELPHIA INQUIRER: "Not since Kinky Friedman has Hebraic-humored folk been as funny and as literate."
NEWARK STAR-LEDGER: "Neo-Borscht Belt... An abundance of clever, catchy songs...Genuine laughs...Thoroughly entertaining comic power-pop."
NEW YORK TIMES: "Giants of Jewish joke-pop, but you can also hear some Beatles in their risque borscht-belting... Ethnic pride mixed with high camp."
BALTIMORE CITYGUIDE: "Irreverent, hilarious, a smorgasbord of dirty humor, high wit and musical lunacy. Lenny Bruce meets Mel Brooks meets Sarah Silverman."
BOSTON HERALD : "Subversively funny... Ribald, impolite, politically incorrect... Deliriously kitschy."
PHILADELPHIA WEEKLY: "Scathing, bawdy borscht-belt comedy... Takes seltzer-bottle humor to a dirty new low, with lyrics that make Lenny Bruce look like a choirboy."
TIME OUT NEW YORK: "Bart Simpsons of the Yeshiva... The neurotic nebbish is out; the swaggering ass-kicker is in."
LOS ANGELES TIMES: "You"ve gotta love it... Skewering all things iconically Jewish - from JDate to Passover to rhinoplasty."
THE PROVINCE (Vancouver, BC): "You loved Sacha Baron Cohen in Borat You"ll be delighted with Altman, a song-writing wiz."
JTNEWS (Seattle "The Voice of Jewish Washington"): "An over-the-top musical gag that strip-mines Jewish stereotypes for every last bit of comedy."
EUGENE WEEKLY (Eugene, OR): "Hilarious...A tongue in cheek, whimsical new approach to Jewish joke-pop."
SAN DIEGO JEWISH JOURNAL: "A riotous and self-righteous musical fest that is all tongue-in-cheek hilarity for the tribe."
SANTA BARBARA INDEPENDENT: "Winning over Jewish audiences with its take-no-prisoners approach to Jewish-inspired comedy...The Jewish hipster movement has arrived."
PHILADELPHIA CITY PAPER: "Recharge your chutpah meter with the Jewtacular, Jewsplosive JEWMONGOUS!"