Yiddish Summer Weimar world-premiere, Weimar, Germany, July 11, 2008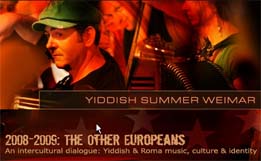 World-Premiere Concert of "The Other Europeans" project, with Kalman Balogh (director of the Roma band, cimbalom, Budapest), Alan Bern (project director, director of the Yiddish band, piano/accordion, Berlin) Dan Blacksberg (trombone), Paul Brody (trumpet, Berlin), Marin Bunea (violin, Chisinau), Christian Dawid (clarinet, Berlin), Matt Darriau (flute, Brooklyn), Csaba Novak (bass, Budapest) Petar Ralchev (accordion, Plovdiv), Stas Rayko (violin, Hamburg), Adrian Recean (clarinet, Paris), Mark Rubin (tuba, Austin), Guy Schalom (drums, London), Adam Stinga (trumpet, Chisinau).
In London, Berlin, Paris, and other centers of "world music" today, mixtures of klezmer, Roma, and Balkan musics are hot in the dance clubs. Does a deeper relationship exist among these musics, or is this just the latest pop music trend? "The Other Europeans," created and directed by Alan Bern, sets out to explore the common roots of Yiddish and Roma music in Moldavia, Wallachia, and as far as Istanbul in the early 20th century. The project brings together 14 internationally renowned musicians to create two new bands – one Yiddish and one Roma. A two-year project, in 2008, the two bands will choose a common Moldo-Wallachian repertoire but play separately, focusing on what makes Yiddish and Roma styles unique from each other.

W e i m a r
July, 11th 2008, 8 pm
(Kulturzentrum mon ami, Goetheplatz 11)
The Other Europeans: Roma Project
Don't miss the fireworks at the world premier concert of The Other Europeans!
Yiddish Summer Weimar
Veranstalter other music e.V.
c/o Kulturbüro LaRete | Goetheplatz 3 | 99423 Weimar
Fon +49 (0)3643 50 66 77 | Fax +49 (0)3643 49 86 04
Mehr Informationen zum Festival finden Sie unter
www.yiddish-summer-weimar.de