Shemspeed 1st Anniv, NYC, 18 Nov 2008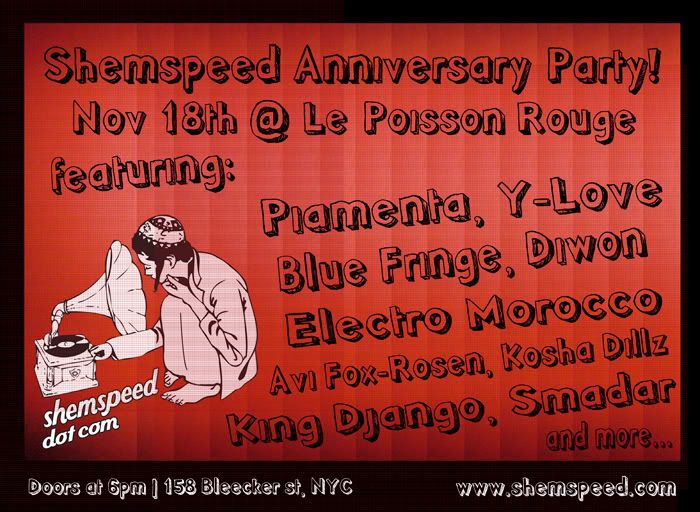 * SHEMSPEED ANNIVERSARY PARTY
Mark your iCals! On November 18th Shemspeed will be taking over the hottest new club in town, Le Poisson Rouge for the Shemspeed One Year Anniversary Party! The night will feature Shemspeed's favorite artists including, Electro Morocco, Piamenta, King Django, Diwon, Smadar,, Y-Love, Avi Fox-Rosen, KoshaDillz, Blue Fringe and special guests... Definitely pass this on to your fam/friends/fiends. This is an event that you do not want to miss!
Nov 18th 2008
Doors at 6pm | Show at 7pm
18+
$10
158 Bleeker St, NYC
Buy Tickets at http://lepoissonrouge.inticketing.com/evinfo.php?eventid=29252
To ensure a spot and get in for only 10bux, purchase tickets now.
Come celebrate the Anniversary of Shemspeed and the launch of The Shemspeed Daily @ www.shemspeed.com/daily