Frank London at Soundbrush Records Showcase, NYC, 9 Jan 2009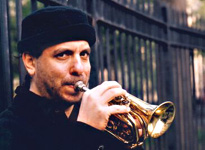 SOUNDBRUSH RECORDS SHOWCASE
Friday, January 9, 2009
6:30pm PANCHO NAVARRO (South American acoustic guitar)
7:10pm ROGER DAVIDSON TRIO (Brazilian jazz piano)
8:00pm DAVID FINCK QUARTET (jazz)
9:00pm FRANK LONDON "A Night in the Old Marketplace"
DROM NYC
85 Ave A betw 5th and 6th Streets
212-777-1157
www.dromnyc.com
Soundbrush's artist showcase takes place during this year's APAP conferences, when arts presenters from across the United States descend on New York City for conferences and concerts.
The special performances will spotlight four of Soundbrush's most recent releases as well as introduce to many the independent label that is home to some of New York's most accomplished musicians.

THE ARTISTS:
FRANCISCO "PANCHO" NAVARRO took a huge risk when he uprooted his family to move to New York City from their native Argentina. His gamble paid off handsomely for the acoustic guitarist, and his resume now includes recording and concert work for everyone from Placido Domingo to Celia Cruz, and from Christian Castro to the Rolling Stones. He released his very-overdue solo debut on Soundbrush this year entitled Sweet Guitar which included little-known South American songwriters as well as a few of Navarro's own elegant compositions.
"Influenced as much by classical acoustic guitar legends like Paco de Lucia and Andrés Segovia as by Mexican boleros and Chilean folk, his playing is crystalline and affecting." - NEW YORK DAILY NEWS
ROGER DAVIDSON is a flexible and diverse piano player with a special interest in Latin jazz, including salsa, tango and Brazilian samba. He launched Soundbrush Records with his own recordings, which have included Amor por el Tango, Rodgers in Rio, and Bom Dia. Davidson's musical reach also extends to Western classical traditions where his experience includes directing chamber orchestras and composing sacred choral music. His newest Soundbrush project, Pasion por la Vida, will feature a series of duets with the label's Latin Grammy-winning bandoneon master Raul Juarena.
"Davidson is one hell of a pianist who knows how to turn those keys over. This is a top-drawer performance recorded flawlessly." - JAZZ.COM
DAVID FINCK is one of the top-tier jazz bass players in the country, with credits that include Paquito D'Rivera, Sinéad O'Connor, Dizzy Gillespie, Ivan Lins, Rod Stewart, Tony Bennett and Andre Previn. Finck has appeared on over 250 CDs and was tapped by the Village Voice to write about Frank Sinatra as a jazz musician in a special issue celebrating the singer's 80th birthday. His solo debut on Soundbrush, Future Day. features Joe Locke on vibes, Tom Ranier on piano, and Joe LaBarbara on drums.
"A fine and unique musician, he can drive a rhythm section or create a sensative solo." PHIL RAMONE
"In my opinion, there is no one who is as good a jazz bass player and collaborator." ANDRE PREVIN
FRANK LONDON is a virtual one-man tour of Jewish, jazz and world music. His projects include the Klezmatics, the Hasidic New Wave, and the Klezmer Brass All-Stars. His Soundbrush debut is A Night in the Old Marketplace, an original multi-media musical theatre piece co-written with Glen Berger and inspired by the famous 1907 Yiddish play by I. L. Peretz. The CD's extraordinary score mixes Jewish, jazz, classical, and world beats with the stark cabaret of Kurt Weill and Tom Waits. The tragi-comic "shtetl ghost love story" made its debut earlier this year as part of WNYC's New Sounds Live series.
"One of the most interesting and colorful figures in the current revival of Jewish music…London is consciously and constantly working to expand the vocabulary of Jewish music, [but he] is also known for injecting a healthy dose of free jazz aesthetic and energy." ALL ABOUT JAZZ