Frank London Band & Ljova and the Kontraband, NYC, 8 Jan 2009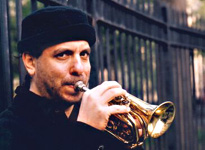 Frank London Band // Ljova and the Kontraband double bill
Thursday, January 8 at 8pm at MEHANATA (a.k.a. The Bulgarian Bar)
113 Ludlow Street, bet. Delancey & Rivington
Subway: F/J/M/Z to Delancey, V to 2nd Avenue
New York City
Admission: $10 at the door.
VIDEOS:
http://www.ljova.com/mehanata_double_bill
If you frequent Facebook, you can RSVP here:
ABOUT THE ARTISTS:
A founder of The Klezmatics, Frank London is a Grammy award winning composer and trumpeter. He is featured on over 250 recordings with John Zorn, LL Cool J, Mel Torme, They Might Be Giants, Jane Siberry, and Itzhak Perlman. and from Carnegie Hall to Sex and the City.
Of his solo CD release "Hazonos" Wired Magazine writes, "One of the Most Stunning Albums of the Year - suggests both ancient, soul-wrenching and the most lyrical and reflective avant-garde jazz." His "Carnival Conspiracy (In the Marketplace All is Subterfuge)" was #1 in Rolling Stone's Top 10 Non-English CDs of 2006.
He was musical director for David Byrne and Robert Wilson's The Knee Plays. He's composed music for Tony Kushner's A Dybbuk, Vit Horejs' Lower East Side epic Once There Was a Village, John Sayles' The Brother from Another Planet, Pilobolus' Davenen, and Min Tanaka's Romance.
"The mystical high priest of New Wave Avant-Klez jazz, Frank London, has released an album that defies phony political barriers and exposes solid musical commonalties among Gypsy, Jewish and Arabic music." —All About Jazz
LJOVA AND THE KONTRABAND www.ljova.com/kontraband -- is chamber-jam music for the "remix generation". As if by alchemy, Eastern-European and Gypsy melodies, Latin rhythms, Jazz-inspired improvisations, and deeply rooted Classical forms are given new meanings in original compositions that fearlessly forge a new direction, with a nostalgic gaze towards the past.
Since making its debut at the Om Factory Yoga Studio in June 2006, the ensemble has performed at venues such as the New York's Museum of Modern Art, Philadelphia Museum of Art, and the Brooklyn Academy of Music, where it was the opening musical guest of the Sundance@BAM Film Festival. The Kontraband is also a mainstay at New York's legendary venue Joe's Pub, and the Brooklyn-based club, Barbes.
Founded by the maverick film composer, arranger, and violist Lev 'LJOVA' Zhurbin --- hailed by Billboard magazine as "one of New York's fastest rising composers and instrumentalists" -- the ensemble also features his close collaborators on vocals, accordion, bass and percussion. Inspired by his collaborations with Yo-Yo Ma, Osvaldo Golijov, the Kronos Quartet, the rapper Jay-Z and others, Ljova's compositions dazzle with intricate textures, odd rhythms and lilting melodies, creating music that is both fresh and timeless. The Kontraband's debut CD, "MNEMOSYNE", featuring special guests Frank London, William Schimmel, Uli Geissendoerfer, Alon Yavnai and Marcus Rojas, was released on September 28, 2008, and was singled out as "Top 10 of 2008" by The Jewish Week's George Robinson, as well as the blog Lucid Culture.
"[There is] nobody quite like the polymath Lev ['Ljova'] Zhurbin...The music he writes and plays is full of Brahmsian tone, Bartok lines, hiccupping Hungarian rhythms, Klezmer soul and the sexy plaintiveness of tango and the blues." —Justin Davidson, Newsday (now New York Magazine)
"Ljova and the Kontraband play genre-defying music beautifully and soulfully. Organically bringing together influences ranging from classical and new music, klezmer, tango, jazz, Gypsy music and more, their music is smartly original, steeped in tradition while moving those traditions forward. Ljova is also a savvy promoter who continually demonstrates that independent artists can effectively use new models of music distribution and social networking to bring their music to the public on their own terms." —Bill Bragin, Lincoln Center for the Performing Arts, New York City
"Ljova and the Kontraband drew a full house at Joe's Pub in Manhattan, forcing fans to stand three-deep at the room's swanky, dimly lit bar... The off-kilter rhythms [Ljova] favors recall the asymmetrical dance beats of central and southeastern Europe, where time signatures tend to look like hat sizes (7/8, 13/8, 15/16). They tug and pull at you in strange and mysterious ways, as do Ljova's melodies, which have the tuneful, emotive quality of good pop." —Alexander Gelfand, Jazziz