the Three Yiddish Divas, Newton, MA, 21 Mar 2009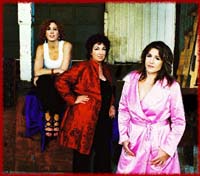 The Jewish Theatre of New England at the Leventhal-Sidman Jewish Community Center
Presents
THE THREE YIDDISH DIVAS
Saturday, March 21, 8pm Sunday, March 22 2pm
Theresa Tova (Jazz-Cabaret Diva), Joanne Borts (Theatre Diva) and Adrienne Cooper (Concert Stage Diva) blend their multilingual repertoire and phenomenal talents into a sophisticated, emotionally charged and stunningly powerful concert.
These outstanding stars of Yiddish cabaret pour passion and artistry into Yiddish jazz, cabaret and theatre songs—including an unforgettable repertoire of the Yiddish theatre greats who inspired modern Broadway.
JPlanet Jazz describes THERESA TOVA as a "towering, pan-cultural jazz-cabaret diva." In one phrase the essence of a career that spans over 25 years is aptly described but remains incomplete. An award winning actor, singer and writer, she is a "classy, jazzy and deliciously sensuous performer."
Joanne Borts is one of New York's favourite theatre and cabaret artists with a catalogue that embraces American Standards and the rich traditions of the Yiddish Theatre. Inspired by Fanny Brice, Molly Picon and Bette Midler, this multi-talented Broadway Dynamo delivers a sexy, energetic and humor-filled evening of song and dance that bridges the gap between American musical theatre and her Yiddish roots.
Internationally recognized as one of this generation's stellar performers of Yiddish vocal music, ADRIENNE COOPER appears on concert, theatre, and club stages around the world. Her singing has been featured on some twenty recordings as well as on film, TV and radio.
"The Three Yiddish Divas are the cream of the Yiddish crop. Daring, creative, and downright beautiful. They can sing like you never heard before. A sophisticated, entertaining combination that brings together three of the most talented performers on the Yiddish Stage." —Mitch Smolkin, former Artistic Director of the Ashkenaz Festival