APAP Showcase, NYC 10 Jan 2009
The international performing arts trade-show and showcase festival known as APAP (artspresenters.org) takes place from Jan. 9-12 at the NY Hilton Hotel. The APAP showcase is free and open to all presenters, whether you are registered for the conference or not.
6:30 Nice Jewish Girls Gone Bad SCHTICKING IT TO THE MAN SINCE 2003 These chosen chicks – badass balabustehs of comedy, music and burlesque have received rave reviews: "3 stars" —NY Post, "a spontaneous party" -Backstage "super fun" -The Village Voice. Featuring a hip hop version of "Bei Mir Bist Du Schoen" and a Paula Abdul makeover for "Tumbalaika." FASTER, PUSSYCAT! KVETCH! KVETCH!
6:50 Gary Lucas PLAYS "THE GOLEM" "Gary Lucas is the Semitic reincarnation of Jimi Hendrix" (Hamburg Morgenpost) "… One of the best and most original guitarists in America" (Rolling Stone) "… The Thinking Man's Guitar Hero" (The New Yorker). Legendary guitarist Gary Lucas plays sold-out shows all over the world with this fantastic music and film project! www.garylucas.com
7:10 The AfroSemitic Experience Expect hot world-beat jazz and virtuosic interfaith soul music when The Afro-Semitic Experience hit the stage with a musical program that merges cultures and delivers a positive and meaningful message about Black-Jewish relations. The combination of their sophisticated artistry, wit, and reverence for the material makes for a moving, one-of-a-kind experience. Afro-Semitic Experience
7:30 Magda Fishman—A THRILLING NEW VOICE Singer and trumpet player Magda Fishman, a rising star in a variety of musical genres performs with her Israeli pop band Shorashim. Performing Israeli hits, popular jazz tunes, and a range of other genres and styles, Magda is truly a gifted performer who delivers an amazing show. Magda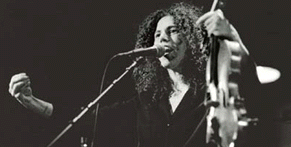 7:50 Alicia Svigals – KLEZMER RE-IMAGINED Fiddle legend and Klezmatics co-founder Alicia Svigals joins forces with piano virtuoso Uli Geissendoerfer to create Jewish instrumental music like you've never heard it before, spinning symphonies out of simple melodies on the fly. Expect the unexpected! "Her fiddle ruled …" New York Times—Alicia Svigals
8:10 Pharaoh's Daughter—MEDITERRANEAN HEARTBEAT, CHASSIDIC SOUL, AMERICAN POP SENSIBILITY Pharaoh's Daughter blends pan-Mediterranean sensuality and psychedelic sensibility thrilling audiences at festivals, colleges, clubs and concert halls. Basya Schechter leads this musical, poetic journey through swirling Hasidic chants, Sephardic grunge, and spiritual stylings filtered through oud, percussion, flute, strings, vocals and electronica. "Hypnotic and charged," Washington Post. Their 2007 CD "Haran" recently won The Indie Acoustic Project Award for Best CD of 2007 in the category of World Music – Eurasia & Global www.myspace.com/chiquitaegreen
8:50 Margot Leverett and the Klezmer Mountain Boys—Klezmer clarinetist Margot Leverett joins Bluegrass stars Kenny Kosek & Barry Mitterhoff in this soulful and exciting fusion. Featured by the Paul Taylor Dance Company and the Philadelphia Orchestra, this music will enchant your ears, touch your heart and move your feet! Concerts, workshops and community jam sessions. Margot Leverett and the Klezmer Mountain Boys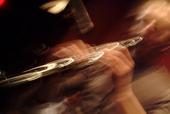 9:10 —"Exhuberant… Ground Breaking" (TIMEOUTNY). Clarinetist/saxophonist Alex Kontorovich has toured with the Klezmatics and Frank London's Klezmer Brass All Stars. For Deep Minor, Kontorovich's debut as a leader, he has assembled a captivating quartet of world jazz musicians who are as much at home with Bird and Trane as they are with Zorn and Krakauer. Alex Kontorovich
9:30—Meg Okura & the Pan Asian Chamber Jazz Ensemble—"Thrilling improvisational virtuosity" (Guardian) and "vibrant and sophisticated" (New York Times) violinist/composer Meg Okura leads a group of virtuosi, the Pan Asian Chamber Jazz Ensemble. "The group delivers exactly what its name promises." (New York Sun) 2006 Independent Music Awards "Best Album" finalist, and No.1 Top-Seller CDBaby's "Crossover Jazz" category. Meg Okura
9:50—Meg Okura & the Pan Asian Chamber Jazz Ensemble
10:10 Andrea Brachfeld: Phoenix Rising – LATIN JAZZ—"First Lady of Latin Jazz Flute" Andrea Brachfeld has released four CDs, and performed on dozens more. She was awarded the Chico O'Farrill Lifetime Achievement Award as the first woman to play Salsa music in the US. Mentors Hubert Laws, Jimmy Heath, and Mike Longo shaped her phenomenal improvisational skills. Andrea Brachfeld
10:30—CJ Harding Offering the best in entertainment and home to the fabulous "Sweet Dreams", A Patsy Cline Tribute starring CJ Harding. CJ Harding is also a Songwriter / Musician and offers acoustic performances solo and with accompaniment. Chris Carpenter singer/songwriter/pianist has been compared to Elton John with a contemporary catalogue of original songs. www.cjharding.com/
10:50—The Spirit of Sepharad Ensemble presents: CARAVAN! Coexistence, respect and peace under our tent. CARAVAN combines music, dance, history, and film in a performance that evokes the rich cultural synergies of Jewish, Christian and Muslim faiths. Master instrumentalists. Edery consistently performs sellout programs and receives stellar reviews. "One of the most exciting concerts we've ever seen!" – WBAI-FM. www.alabastermuzik.com