Mimi Rabson, Boston, MA, 19 Feb 2009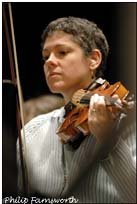 "dazzling violin phenom" (Boston Globe) MIMI RABSON (former violinist with the Klezmer Conservatory Band) premieres a bold new collection of newly commissioned solo repertoire for 21st century violin in four Boston-area concerts, Feb. 16 - March 14th.
The Berklee College of Music composers commissioned by Rabson, who is Jewish, include jazz great Joanne Brackeen, Latin vibraphonist Victor Mendoza, interactive composer Neil Leonard, turntable guru Stephen Webber, jazz/funk bassist Winston Maccow, and guitar luminary Norm Zocher. The works draw from jazz, funk, rock, Latin, hip-hop and contemporary classical music, and utilize improvisation, effects pedals, new performance techniques, and interactive computer performance.
Thursday, Feb. 19
Berklee College of Music David Friend Recital Hall
921 Boylston Street in the Uchida Building
Boston, MA
7:30 p.m.
Free and open to the public.
(617) 266-1499
www.berklee.edu
Mimi Rabson has distinguished herself as one of Boston's most creative and versatile musicians. She appears regularly in classical, jazz, klezmer and other eclectic performances and frequently leads her own ensembles. She is a first-prize winner of the Massachusetts Cultural Council Fellowship in composition for 2003. She was a founding member of the Klezmer Conservatory Band and worked with that organization for many years touring, recording, composing and acting as musical director. Rabson appeared with Itzhak Perlman on "The Late Show with David Letterman" and was featured in a documentary about Klezmer music called "A Jumpin' Night in the Garden of Eden". Ms. Rabson served as musical director to academy award winner, Joel Grey in his production of "Borschtcapades '94". Her composition "Klezzified" was featured on Saturday Night Live.
Rabson created RESQ - the Really Eclectic String Quartet that plays her compositions and arrangements of jazz, funk, fusion, gospel and Latin music. RESQ has made two recordings and performed extensively in the Boston area.
In her 2003 recording "Music," she uses her electric violin in a power trio setting with electric bass and drums. It features noise-rock, post-jazz and electro-acoustic compositions and improvisations. She won the Massachusetts Cultural Council composition award for works on that recording.
Rabson's other performance credits include the premiere of "Fresh Faust" by Leroy Jenkins, the soundtrack for the award winning film "Sensorium" by Karen Aqua, the Boston Gay Men's Choir, the Boston Camarata, the New England Ragtime Ensemble, the Klezmatics, Sabana Blanca, Abby Rabinovitz, Deborah Henson-Conant, the Pablo Ablanedo Octet, and XLCR. She has appeared on A Prairie Home Companion twice, at Avery Fisher Hall, Lincoln Center Out of Doors, Wolf Trap, the Mann Center, the Place des Arts in Montreal and at many other world class venues.
Ms. Rabson is an Associate Professor at the Berklee College of Music.