"J. EDGAR KLEZMER: Songs from My Grandmother's FBI Files", Teaneck, NJ, 28 Feb 2009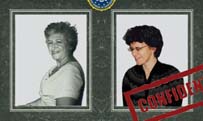 "J. EDGAR KLEZMER: Songs from My Grandmother's FBI Files"
musical documentary theater!
Saturday, February 28, 8pm
Puffin Cultural Forum, Teaneck NJ
20 Puffin Way
Teaneck NJ 07666
puffinfoundation.org/forum/forum_new
Suggested $10 donation
This show is very likely to sell out, please reserve in advance:
By phone: 201-836-3499 live or with last name-phone-email-#tix, by voicemail

"J. Edgar Klezmer" premiered to a sold-out house at Dixon Place late last year and immediately became a Time Out NY Critics Pick. The show is based on the true story of the late Dr. Adele Sicular, grandmother of Metropolitan Klezmer and Isle of Klezbos drummer/bandleader Eve Sicular. Using documents obtained through a Freedom of Information Act filing, plus myriad other archival findings and family gossip, this piece investigates the dealings of the FBI and Eve's pianist/psychiatrist/activist grandma through live theater, multi-media projections, and music both original and adapted. With musical genres from klezmer to Kodaly, baroque to boogie woogie, jazz, gospel and more, the show features soprano Melissa Fogarty and fellow traveler Moe Angelos [Five Lesbian Brothers, The Builders Association theater troupe], as well as numerous bandmates in both musical and speaking roles. Directed by Jennifer Griesbach.
Cast: Pam Fleming /trumpet, flugelhorn; Melissa Fogarty /vocals; Debra Kreisberg /clarinet, sax; Shoko Nagai /piano; Eve Sicular /drums, research, granddaughter, book-lyrics-music; Moe Angelos /actor, Dr. Silverberg.

"J. Edgar Klezmer: Songs from My Grandmother's FBI Files" was supported by NYC's Department of Cultural Affairs in its premiere last fall, and will be returning to New York City later in 2009, TBA.