Ribs & Brisket Revue, Newton, MA, 24 Oct 2009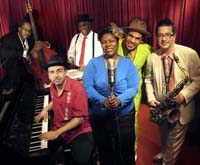 KlezmerShack favorites: Ribs & Brisket Revue
New England premiere!
Saturday, October 24, 2009 8pm
Sunday, October 25, 2009 2pm
Ribs & Brisket Revue has been serving up heaping helpings of '40s & '50s-style Jewish jazz, Yiddish swing, and various kosher-style blues to fans everywhere. Ribs & Brisket Revue both entertains and impresses: chicken soup for the weary, postmodern soul. The most fun you'll have at a concert this year!
Tickets: $25 General; $23 JCC members and seniors
Related events
Pre-show talk
: Sunday, October 25, 2009 12:30pm "Roots: Klezmer Meets Jazz—Exploring Jewish and African-American musical traditions" Hankus Netsky Faculty, New England Conservatory; Founder and director, Klezmer Conservatory Band Free with ticket to either show or $8 General / $5 JCC members
Ribs and brisket bake-off: Enter your favorite brisket recipe!
A panel of culinary judges, including Firefly's chef, Steve Uliss and PBS Cookbook authors Sheila and Marilyn Brass, will select the best recipes. Winners will be announced at the Saturday evening show and a taste of the winning recipe will be served.
Winner receives

Gift Certificate to Firefly Restaurant


Free tickets to selected JCC events


JCC gym bag


Bragging rights!