Daniel Kahn & Psoy Korolenko: The Unternationale vs. Partisans and Parasites, Chopin Theatre, Chicago Illinois, October 17, 2009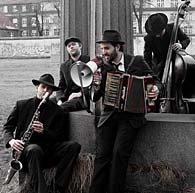 DANIEL KAHN & PSOY KOROLENKO: THE UNTERNATIONALE vs. PARTISANS & PARASITES
When: Saturday, October 17th, 9:30pm
Where: Chopin Theatre, 1543 W. Division (at Ashland) Map: www.chopintheatre.com/directions.php
Transit: Blue Line Division El (24 hr), Bus
Who: All Ages
Tickets: www.ticketweb.com/t3/sale/SaleEventDetail?dispatch=loadSelectionData&eventId=2803674
Important Links:
KFAR site event link: www.kfarcenter.org/events/
Sample mp3: 6 Million Germans (Nakam) kfarcenter.com/2009/sixmilliongermans.mp3
Facebook event link: www.facebook.com/event.php?eid=134826422899
Daniel Kahn & Painted Bird: /www.danielkahn.com / www.myspace.com/thepaintedbird
Psoy Korolenk & Unternationale: www.myspace.com/psoy / www.myspace.com/theunternationale
Videos: www.youtube.com/watch?v=7StNMUwYFXg
www.youtube.com/watch?v=YIs_rikRREE
Description:
Verfremdungsklezmer = Euro Cabaret + Radical Yiddish Song + Gothic American Folk + Klezmer Danse Macabre.
Fronted by Detroit-born singer-songwriter Daniel Kahn on vocals, accordion, piano and guitar, the band was formed in Berlin in fall of 2005. It also features with East German Bert Hildebrandt on clarinets, US expat composer Michael Tuttle on upright bass, and a rotating roster of some of Berlin and New Yorks best young Klezmer and Balkan players.
Their first album, The Broken Tongue, was released on Chamsa Records in Fall 2006 to critical acclaim. Their follow up, Partisans and Parasites (Oriente) follows suit with another set of intelligent, probing songs about identity and responsibility in Yiddish, Russian and English. Its standout hit, 6 Million Germans, weaves together Johnny Cash with Kurt Weill to tell the true story of poet Abba Kovner, who survived the Vilna Ghetto and formed Dam Yehudi Nakam (Jewish Blood Will Be Avenged) and planned a devious (and eventually foiled) eye-for-an-eye plot that would make Tarantino's Inglorious Basterds blush. Covering everything from faciscm to Holocaust revenge plots to vampires, Hurricane Katrina and New Orleans, Kahn's songs are at times humorous, wistful and even uncomfortable, but they make us think.
They are joined by Russian/Jewish multilingual poet-singer Psoy Korolenko and The Unternationale. They balance between folk, klezmer, rap, sound poetry and intellectual cabaret/comedy to explore diaspora, territory, minorities, and borderlines. Discography includes 'Un Vo Iz Der Onheyb Fun Foterland' (Soviet Pop Classics in Yiddish translations and Klezmer arrangements)
Together, their European Jewish experience is both personal and metaphor; a transcultural identity and ultimate otherness performed in English, Russian, French, German and Yiddish.
TICKETS!!!
www.ticketweb.com/t3/sale/SaleEventDetail?dispatch=loadSelectionData&eventId=2803674