Ribs and Brisket Revue, NYC, 31 Dec 2009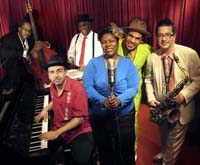 KlezmerShack favorites: Ribs & Brisket Revue
CORNELIA STREET CAFÉ
29 Cornelia Street, NYC, New York 212-989-9319
www.corneliastreetcafe.com
between West 4th and Bleecker Sts, Greenwich Village
1 Subway to Sheridan Square; A, C, E, B, D, V, F to West 4th St.
There are two ways to do it- just come for the 10 PM show and enjoy a free glass of Nicolas Feuillatte Vintage Brut Champagne at midnight for $55.
Or do it right- have a lovely multi-course meal upstairs and then come down for the show for the very reasonable $100 per person. Its delicious, fun, intimate and most of you don't have to travel far to get there.