Kugelplex, San Francisco, CA, 3 June 2010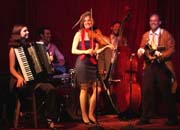 Let's Go Dance@Jessie Series
A Klezmer Wedding Celebration with Kugelplex
Thursday, June 3, 6:00pm-7:30pm, Free
Jessie Square (Mission between 3rd and 4th Streets, San Francisco)
With Kugelplex, the Bay Area's most rockin' purveyor of old world Klezmer, join the wedding procession of Sharon and Amber into a madcap whirl of clapping, stomping and easy to follow dances led by Klezmer dance maven, Bruce Bierman. Enjoy the vocals of celebrated recording artist, Jewlia Eisenberg, and the comic antics of David Rosenfeld-as we celebrate love in a circle of dancing community.
Kugelplex will be celebrating marriage equality for all with a blowout dance party featuring our dear friends, Sharon and Amber, recently married when it was legal, and now very active in the fight for marriage equality. They are both wonderful spokespeople for legalizing same sex marriage. Unable to dance for their wedding ceremony at the time and because klezmer music and dance have their deepest roots in the Jewish wedding celebration, this will be the party we had always wanted to give them.
Let's Go Dance@Jessie is a free monthly open-air dance party in Jessie Square in front of the Contemporary Jewish Museum and next to St. Patrick's Church in downtown San Francisco on the First Thursday of each month from May to October from 6:00pm to 7:30pm. The series offers dance lessons and music from today's best Bay Area artists.