Strauss/Warschauer Duo & Philadelphia Workmen's Circle Chorus, Philadelphia, PA, 20 June 2010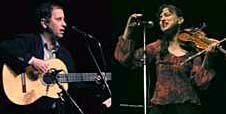 The Friends of the Central Library present:
Zumerlid: Yiddish Songs & Klezmer Music for a Summer Day
Sunday June 20, 2010 at 2:00 p.m.
Featuring The Philadelphia Workmen's Circle Chorus
Cantor Naomi Hirsch, Conductor
Evelyn Goldhammer, Accompanist
with special guests, the Strauss/Warschauer Duo
Montgomery Auditorium | Parkway Central Library
1901 Vine Street, Philadelphia, PA 19103
Accessible to people with physical disabilities at the Wood Street entrance.
THIS CONCERT IS FREE AND OPEN TO THE PUBLIC.
For more information, call 215.686.5316 or 215.686.5309.
freelibrary.org
For 80 years, The Philadelphia Workmen's Circle Chorus has been delighting audiences of all ages singing exclusively in Yiddish, the language of Central and Eastern European Jews and their descendants throughout the world.
The internationally renowned Strauss/Warschauer Klezmer Duo has been at the forefront of the Yiddish music scene as performers and teachers for over 20 years.