Stages Klezmer Paris - 2010 du 5 au 9 juillet 2010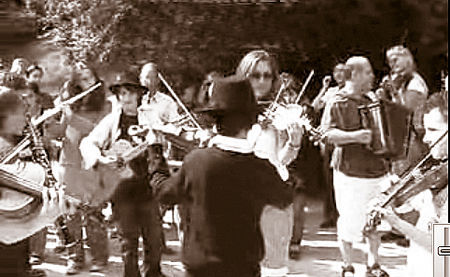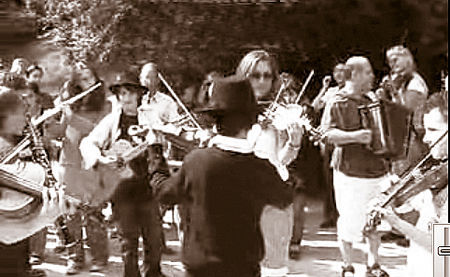 N'attendez plus pour vous inscrire !
STAGE de MUSIQUE INSTRUMENTALE
STAGE de CHANT YIDDISH
STAGE de DANSES TRADITIONNELLES
STAGE pour ENFANTS et JUNIORS
Du 5 au 9 juillet 2010
Pour la huitième année consécutive, ces quatre cursus parallèles et intensifs s'adressent aux intéressés de tous âges, du niveau intermédiaire au niveau professionnel. De nombreuses passerelles permettent à chacun de découvrir l'étendue de ce folklore particulièrement riche ou de parfaire ses connaissances (cours dispensés en français et en anglais).

Au programme : ateliers, conférences, master classes, jams, spectacles ... certaines animations seront ouvertes au grand public. Et pour les juniors de 7 à 17 ans, un projet pluridisciplinaire : « le grand cirque klezmer »…
Informations et inscriptions auprès d'Estelle au 01 47 00 14 00 ou par e-mail
RENSEIGNEMENTS ET RESERVATIONS
Maison de la culture yiddish – Bibliothèque Medem
18, passage Saint-Pierre Amelot F - 75011 PARIS
Tél. : + 33 1 47 00 14 00 / fax : + 33 1 47 00 14 47
Métro : Oberkampf (lignes 5 et 9), Richard Lenoir (ligne 5), Filles du Calvaire (ligne 8)
Bus : 56 et 96 (arrêt : Oberkampf), 20 et 65 (arrêt : Saint-Sébastien Froissart)
www.yiddishweb.com
Les stages sont animés par des artistes de renommée internationale :
Efim CHORNY (Moldavie) – chant, chœur, composition
Christina CROWDER (Etats-Unis) – accordéon
Noelle DALSACE (France) – danse, magie, clown, activités juniors
Christian DAWID (Allemagne) – clarinette
Marthe DESROSIERES (France) – coordination musicale, flûtes, activités juniors
Susan GHERGUS (Moldavie) – piano, composition
Shura LIPOVSKY (Pays-Bas) – directrice du stage de chant, voix
Frank LONDON (Etats-Unis) – trompette
Adrian RECEANU (Moldavie) – clarinette
Andreas SCHMITGES (Allemagne) – danse, guitare, mandoline
Jake SHULMAN-MENT (Etats-Unis) – violon
Emma STIMANN (Grande Bretagne) – clarinette
Lorin SKLAMBERG (Etats-Unis) – chant
Noëmi WAYSFELD (France) – theâtre, danse, chant, activités juniors
Steve WEINTRAUB (Etats-Unis) – danse
Et leurs assistants ...
Téléchargez :
- la présentation,
- le bulletin d'inscription,
- la liste des hébergements
www.youtube.com/watch?v=CO56tCCb4XY
www.youtube.com/watch?v=5OtwfEwFwiw
Register now !
WORKSHOP OF INSTRUMENTAL MUSIC
WORKSHOP OF YIDDISH SONGS
WORKSHOP OF TRADITIONAL DANCE
WORKSHOP for CHILDREN add JUNIORS
From July 5 until July 9, 2010
For the eighth consecutive year these four intensive parallel workshops are designed for people of all ages, from intermediate to professional levels. A number of "passageways" will allow everyone to discover the extent of this particularly rich folklore and to perfect one's knowledge. The classes are taught in French and in English.
The four parallel courses (with common activities) - klezmer music, Yiddish songs and nigunim, Jewish dances of Eastern Europe and Juniors classes - are all led by internationally well-known artists:
Efim CHORNY (Moldavia) – vocals, choir, composition
Christina CROWDER (United States) – accordion
Noelle DALSACE (France) – dance, magic, clown, juniors classes
Christian DAWID (Germany) – clarinet
Marthe DESROSIERES (France) – musical coordinator, flutes, juniors classes
Susan GHERGUS (Moldavia) – piano, composition
Shura LIPOVSKY (Netherlands) – director of the song workshop, vocals
Frank LONDON (United States) – trumpet
Adrian RECEANU (Moldavia) – clarinet
Andreas SCHMITGES (Germany) – dance, guitar, mandolin
Emma STIMANN (Great Britain) – clarinet
Jake SHULMAN-MENT (United States) – violin
Lorin SKLAMBERG (United States) – vocals
Noëmi WAYSFELD (France) – theater, dance, vocals, juniors classes
Steve WEINTRAUB (United States) – dance
and their assistants…
Program : daily workshop in singing, dancing and instrumental music, master classes, talks and lectures, jam sessions and performances. And for the kids and juniors from 7 to 17, one multidisciplinary workshop: « the big klezmer circus ».

Information and pre-registration with Estelle at +33(0)1 47 00 14 00 or by e-mail
Download the presentation and the application form
INFORMATION AND RESERVATIONS
Maison de la culture yiddish – Bibliothèque Medem
18, passage Saint-Pierre Amelot F - 75011 PARIS
Phone: + 33 1 47 00 14 00 / fax: + 33 1 47 00 14 47
Metro : Oberkampf (lines 5 and 9), Richard Lenoir (line 5), Filles du Calvaire (line 8)
Bus : 56 and 96 (bus stop: Oberkampf), 20 and 65 (bus stop: Saint-Sébastien Froissard)
www.yiddishweb.com