3 Alicias 3, NYC, 24 August 2010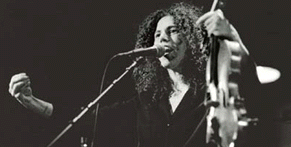 The Forward and Sixth Street Synagogue Present:
Jewish Art for the New Millennium: 3 Alicias 3
Evening of Music and Poetry with Alicia Svigals, Alicia Ostriker, and Alicia Jo Rabins
Curated by Jake Marmer and Dan Friedman
Tuesday Aug 24th @ 7.00pm
325 East Sixth Street (b/n 1st and 2nd avenue)
$8 cover
The evening will feature these acclaimed artists who represent eclectic genres, mediums and generations. Each will perform a set, then all three will come together in a collaborative work, and finally, a panel discussion will follow.
Alicia Svigals, violinist/composer, a founder of the Klezmatics and of the all-women band Mikveh, is considered by many to be the world's foremost klezmer fiddler. During the past decade, she almost singlehandedly revived klezmer fiddle playing, which came close to extinction in this century; traditional klezmer violin style is now being played again by hundreds of her students, including most of today's best professional players. She taught and toured with violinist Itzhak Perlman, who recorded her compositions as duets with Ms. Svigals accompanied by the Klezmatics. She is a past winner of the first prize at the Safed Klezmer Festival. "She is without question the greatest living exponent of the klezmer fiddle…" - Seth Rogovoy, author of The Essential Klezmer. See www.aliciasvigals.com.
Alicia Ostriker is a major American poet and critic. Twice nominated for a National Book Award, she is author of twelve volumes of poetry, most recently "The Book of Seventy" (2009), which won the Jewish Book Award for Poetry. As a critic Ostriker is the author of two path-breaking volumes on women's poetry, "Writing Like a Woman and Stealing the Language: The Emergence of Women's Poetry in America." Ostriker has received awards from the National Endowment for the Arts, the Poetry Society of America, the San Francisco State Poetry Center, the Judah Magnes Museum, the New Jersey Arts Council, the Rockefeller Foundation, and the Guggenheim Foundation. She is Professor Emerita of Rutgers University and is a faculty member of the New England College Low-Residency Poetry MFA Program. Ostriker has taught in the Princeton University Creative Writing Program and in Toni Morrison's Atelier Program. She has taught midrash writing workshops in the USA, Israel, England and Australia. See www.rci.rutgers.edu.
Alicia Jo Rabins is a fiddler, singer, songwriter, and poet living in Brooklyn, NY. She has toured Central America as a cultural ambassador for the United States. A regular fiddler with Golem, her own band, Girls in Trouble, plays art-pop songs about women in the Torah. "An entrancing one-woman string quartet" — The Forward. Check out Alicia's Girls in Trouble Project here: www2.myspace.com/girlsintroublemusic.