Alicia Svigals and Uli Gessendorfer, Sixth Street Synagogue, 5 October 2010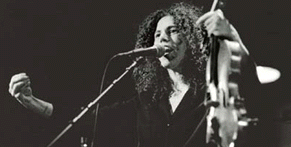 Klezmer Reimagined: Alicia Svigals w/Uli Gessendorfer
Tue Oct 5th, 8.30pm
Sixth Street Synagogue
325 East Sixth, b/n 1st and 2nd Ave
$15 cover includes a drink
Alicia Svigals is the world's leading klezmer fiddler and a founder of the Grammy-winning Klezmatics, who she co-led for seventeen years. She has played with and composed for violinist Itzhak Perlman, the Kronos
Quartet, playwrights Tony Kushner and Eve Ensler, the late poet Allen Ginsberg, Robert Plant and Jimmy Page of Led Zeppelin, singer/songwriter Debbie Friedman, Hasidic superstars Avraham Fried, singer/songwriter Diane Birch, Gary Lucas and Najma Akhtar, and many others. She has appeared on David Letterman, MTV, Good Morning America, PBS' Great Performances, on NPR's Prairie Home Companion, Weekend Edition and New Sounds, and on the soundtrack for the L-Word. She also has a busy party band, sought after for weddings and bar/bat mitzvahs.
More info about Alicia Svigals: www.aliciasvigals.com
Jazz pianist Uli Geissendoerfer's sidelong look at Alicia's klezmer fiddling offers a fresh per spective on this ancient and beautiful tradition.