Hankus Netsky, Newton, MA, 16 October 2010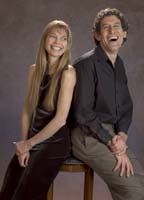 Hankus Netsky, Linda J. Chase in "Klezmer and Beyond"
Temple Reyim
Newton, MA
Saturday, October 16.
Actress/singer Jessica Kate Meyer, composer/flutist Linda J. Chase, and fiddler Yaeko Miranda Elmaleh join Klezmer Conservatory Band leader Hankus Netsky for a cafe-style concert—"Klezmer and Beyond."
8:00 p.m.
All tickets $18
Purchase tickets online: www.reyim.org
Temple Reyim
1860 Washington Street
Newton MA 02466
617-527-2410 ext 11
Plenty of free parking; short walk from Woodland T stop on D line.