Odessa/Havana, Toronto, Canada, 25 Nov 2010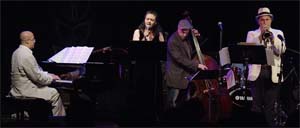 David Buchbinder's Odessa/Havana
Thursday, November 25th, 2010
Dinner @ 7, SHOW @ 8:30 pm
Lula Lounge
1585 Dundas Street West (just
TICKETS: $20 (at the door only, except for dinner reservations)
(416) 588-0307
Fresh off of a sold-out concert at the 15th Annual Ashkenaz earlier this month, David Buchbinder's Odessa/Havana will return to the stage for a public performance at Lula Lounge. The show promises to be another memorable night of cutting-edge world jazz, played by some of the country's top musicians, in one of the city's best venues.
The group will be unveiling even more new songs as well as bringing back previous, award-winning music from their debut 2007 album released on Tzadik.
Dinner reservations are for 7:30 pm, and the show starts at 8:30. For guaranteed seating along with a great meal, please make a dinner reservation through Lula's website HERE.