"Sing Songs of Shabbat," Boston Jewish Music Festival, 11 Mar 2011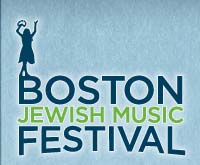 Boston Jewish Music Festival
Sing Songs of Shabbat
Friday night, Mar 11, 2011, Various Locations
While Jewish music runs the gamut from the Balkans to Broadway, from the mournful to the madcap, there is no denying its roots are based in prayer melodies. This year, BJMF is proud to offer an innovative exploration of Jewish spiritual music in synagogues and on stage. No matter what your level of observance or practice, we think you'll find inspiration at this very special weekend of divine musical sparks.
Another first! And not just for Boston, but for Jewish Music Festivals around the country. We're proud to invite the public to attend one of four festive Kabbalat Shabbat Programs. What better way to experience the eclectic history of Jewish ritual music.
Cantor Yaakov Lemmer will be davening at the Chabad of the North Shore, 44 Burrill Street, Swampscott.
Cantor Aaron Bensoussan will lead a Sephardic service at Temple Aliyah, 1664 Central Ave, Needham.
Neshama Carlebach will be a special Shabbaton guest and participate in Temple Emanuel's Shabbat Alive! services, 385 Ward Street, Newton.
A Baroque Italian Kabbalat Shabbat, composed by Salamone Rossi of Mantua in the 1630's, will be performed by Cantor Louise Treitman and her ensemble at Congregation B'nai Torah, 225 Boston Post Road, Sudbury.
All services are free but space is limited at each temple. Reservations for each event can be made via the email links below:
Yaakov Lemmer at Chabad of North Shore
Aaron Benssousan at Temple Aliyah
Neshama Carlebach at Temple Emanuel
Baroque Italian at Congregation B'nai Torah