SoCalled and KlezWoods, Brookline, MA, 17 Mar 2011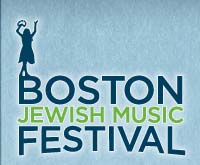 Boston Jewish Music Festival
Thursday, March 17, 8pm
The Ultimate Purim Party pt. 1 w/SoCalled and Klezwoods
Veronique Ballroom
20 Chapel St
Brookline, MA 02446
Tel: (617) 854-5000
Check out the musical madness Montreal DJ/musician/sound artist SoCalled creates with his band. Come prepared to dance. Boston's own Klezwoods will open the evening with their own creative take on contemporary klezmer. A wild and crazy time will be had by all.
Tickets: In advance $15 general admission, $20 at the door. Cash bar. To purchase tickets click HERE.
Cosponsored with GesherCity and Prism.
This program is supported in part by a grant from CJP's Innovation Grants Committee.