Juan Rodriguez and his Cubn Jewish Jazz Allstars, Brookline, MA, 19 Mar 2011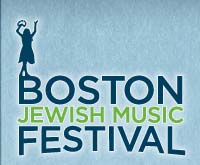 Boston Jewish Music Festival
Saturday, March 19, 8pm
The Ultimate Purim Party pt. 2, with Roberto Juan Rodriguez and his Cuban Jewish Jazz Allstars
Acacia at Indian Meadow Country Club
275 Turnpike Rd
Westborough, MA 01581
Tel: (508) 366-6526
You'll want your dancing shoes when some of NYC's top Latin and Israeli jazz musicians join forces. Imagine a klezmer band jamming with Santana and you'll have some idea of the fun. Percussionist Rodriguez is a Tzaddik recording artist who has toured with Paul Simon, Joe Jackson and others.
Tickets: In advance $18, $25 at the door. Cash bar. To purchase tickets click HERE.
Cosponsored by Jewish Family Service of MetroWest and The Boroughs JCC.
This program is supported in part by a grant from CJP's MetroWest Planning Committee.