Don Byron, Berkeley, CA, 23 Feb 2011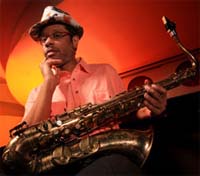 Don Byron Plays the Music of Mickey Katz
presented by the Freight and Salvage in association with 26th Jewish Music Festival
Black History Month Series
Wednesday, February 23, 8:00 pm (doors open at 7:00 pm)
reunion of groundbreaking and virtuosic klezmer ensemble
Tickets: $22.50 advance / $24.50 at door

A klezmer show as part of Black History Month: what's up with that? Let Don Byron and his powerful band show you tonight, as they illuminate one of the many fruitful musical collaborations between the African American and Jewish communities--and knock your socks off into the bargain! (For further examples of such collaborations, look no further than the jazz of Benny Goodman and Johnny Mathis' famed rendition of "Kol Nidre.") This show is dedicated to the music of the late great Mickey Katz, clarinetist, Yiddish humorist, klezmer bandleader, and musical director for Spike Jones. Featuring tunes like "Haim Afen Range" ("Home on the Range") and "Seder Dance" (an amazing adaptation of Khachaturian's "Saber Dance"), the performance explores the full range of Mickey's virtuosity and wacky humor.