Hankus Netsky & Another Realm, Boston, MA, 24 Feb 2011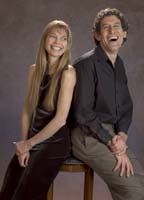 Free Concert at Jordan Hall, Thursday, February 24 at 8PM
Another Realm and Wild Garden Chamber Ensemble feature renowned musicians Hankus Netsky, Linda Chase and Sarah Jarosz, with performance artist Sue Murad.
On Thursday February 24 at 8PM, FREE of charge, New England Conservatory's Contemporary Improvisation chair and Hankus Netsky along with Contemporary Improvisation faculty member Linda J Chase, will perform with two exciting groups.
Another Realm is a quintet of creative musicians that performs original interpretations of jazz, folk, and world music, along with their own original music. Featured are multi-instrumentalist Hankus Netsky, flutist and bass clarinetist Linda J Chase, bassist Chris Rathbun, world percussionist Jerry Leake, and Grammy-nominated vocalist, mandolinist, and songwriter Sarah Jarosz.
Wild Garden Chamber Ensemble is known for its incorporation of composition, improvisation, poetry, movement, and visual art. This program will include collaborations with multimedia performance artist and 2008 Massachusetts Cultural Council fellow Sue Murad. Included will be selections from Reflections on Rumi (commissioned with a Berklee College Faculty Fellowship Grant) and Tannabata Star Festival, the first-prize winner in the inaugural Kaji Aso Gallery "Tannabata" composition competition. The music for both of these unique works was composed by Chase.
The Concert will take place in New England Conservatory's Jordan Hall, 290 Huntington Avenue, Boston. Admission is Free.
For more information and tickets please contact:
Jordan Hall Box Office
617-585-1260 or
www.necmusic.edu/concerts-events