Alicia Svigals Klezmer Fiddle Express, NYC, 2 Jun 2011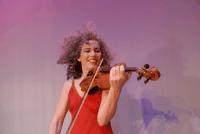 Alicia Svigals' Klezmer Fiddle Express Thursday!

Free and outdoors, 12:30 to 1:30 pm, Thursday, June 2, 2nd Ave and 10th St.
Come see Alicia and her band for free! A presentation of the Third Street Music School Settlement's Music in Abe Lebewohl Park concert series. Featuring Aaron Alexander, drums, Brian Glassman, bass, and Patrick Farrell, accordion.
In front of St. Mark's Church-in-the-Bowery at 10th St. and 2nd Ave. Concert held rain or shine—in case of rain it moves onto the portico of the church.
Click here for more info about the Abe Lebewohl concert series
P.S. Preview Alicia Svigals' Klezmer Fiddle Express on Youtube!