Alicia Svigals, NYC, 20 Sep, 2011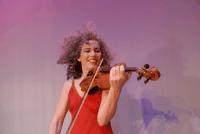 Tuesday, September 20
The East Village Klezmer Festival Returns!
A Weekly Celebration of Yiddish Culture and Music

6:00 PM Klezmer Masterclass for musicians of all levels and instruments, taught by drummer Aaron Alexander, $25.

7:00 PM Learn Conversational Yiddush with Dmitri Slepovitch, $20.!

8:00 PM Concert featuring violin virtuoso Alicia Svigals with accordionist Christina Crowder and bassist Ari Folman-Cohen, $15.
9:30 PM Klezmer Jam Session, led by Margot Leverett, Pete Rushefsky, Aaron Alexander and guests, with Yiddish dance instruction by Lisa Mayer, Deborah Strauss, or Adrianne Greenbaum and guests. $5
Sixth Street Synagogue
325 E. Sixth Street
New York, NY 10003
212.473.3665
Tix: $15 for show only, or $35 for full evening pass (includes Workshop or Yiddish Class, Concert, Jam Session & one drink)
More info: sixthstreetsynagogue.org
The series are co-sponsored by Workmen's Circle/Arbeiter Ring of NY, Living Traditions/Klez Kamp, and Center for Traditional Music and Dance.