Klezwoods, Trubaci Balkan Brass, Somerville, MA, 26 Jan 2012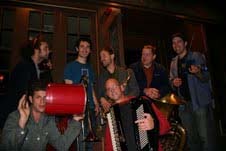 Klezwoods with openers Trubaci Balkan Brass Band
January 26th
Johnny D's Uptown
17 Holland St., Somerville, MA (Davis Sq.) 02144
7:30-9:30pm
$10
We are returning to one of our favorite venues, Johnny D's Uptown (Davis Sq., Somerville) for a show that will surely be remembered. We always love to play at this classic Somerville spot and are continuing the tradition of providing stellar and entertaining opening bands for the show. Last Spring we brought the Underscore Orkestra gypsy band from Oregon, this fall we had the Elephant Wrecking Ball, and this time around we are getting the Trubaci Balkan Brass Band! They will start the show off with a blast of brass that will surely get the party started right! They mix traditional eastern european flavors with intense improvisation and tight rhythms and harmonies. Trumpets, saxophones, trombones, tubas and drums will be blowing the roof off. Following Trubaci, Klezwoods will be rocking the house with our usual Klezmer/Eastern European blend of hard grooves, improvisation and melodies.
This is a particularly special show for us, as we will be hitting the studio the very next day to record our next full length album! We will be travelling up to Syracuse, N.Y. for a weekend of recording at More Sound Studios. We are very excited to get rolling on this one, as it will feature a lot of new and original material as well as some classic repertoire that will make for an interesting and fun album to listen to.
So come out and see us off with a night of great music, food, drinks and company! We hope to see you out this Thursday night!