Isle of Klezbos, NYC, Jul 12, 2012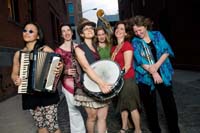 Isle of Klezbos
Thursday, July 12
LentSpace in Hudson Square, downtown NYC
1PM-2PM*
Canal St & Sixth Ave outdoors, NYC.
*FREE & open to the public.*
http://www.lmcc.net/cultural_programs/lentspace
*ISLE OF KLEZBOS with alumni special guests:*
Debra Kreisberg, clarinet & sax.
Shoko Nagai, accordion.
Melissa Fogarty, vocals.
Saskia Lane, bass.
Eve Sicular, drums|leader.
Guest klezbian Rick Faulkner, trombone.
This outdoor set is free & open to the public at the new downtown
"LentSpace" daytime cultural venue, co-sponsored by the Lower Manhattan Cultural Council.