Ezekiel's Wheels Klezmer Band, Brighton, MA, 2 March 2013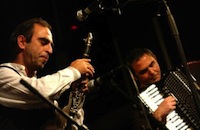 The Meditative Voice w/Shura Lipovsky & César Lerner
Sat, 2 Mar 2013, 6:30-9:30pm
JCHE Ulin House
30 Wallingford Rd
Brighton, MA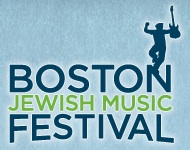 Join CJP Young Leadership Division volunteers for a night of music, conversation and dancing with residents of Jewish Community Housing for the Elderly. Award-winning band Ezekiel's Wheels will provide their unique blend of classic klezmer with a touch of contemporary pop. There are just a few spots available for interested young adults who want to mingle with the JCHE residents at the prom.
If you would like to attend/volunteer at the event, register here.
Presented in partnership with the CJP's Young Leadership Division.
For further info: bostonjewishmusicfestival.org/events