World of Klezmer, Somerville, MA, 2 March 2013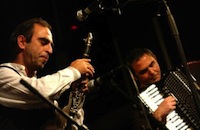 New World Klez Fest: The Tarras Project, Lerner & Moguilevsky, Shura Lipovsky
Sat, 2 Mar 2013, 7:30-10:00pm
Somerville Theater
55 Davis Square
Somerville, MA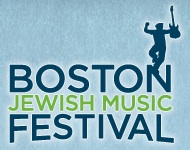 Forget your passport. Take a world tour of klezmer with three very different, very wonderful klezmorim.
The Tarras Project
The Tarras Band captures and refreshes the classic music of legendary clarinetist, Dave Tarras. The band features rising star Michael Winograd on clarinet, Boston's own Jim Guttman on bass, and 72 year young Pete Sokolow on piano, who played with Dave Tarras for years.
Lerner & Moguilevsky
Born of Russian and Polish grandparents who immigrated to Argentina at the turn of the century, Cesar Lerner and Marcel Moguilevsky use klezmer as a springboard for free improvisation that is played with intensity and originality. Swinging back and forth between the genres, vocalist Marcelo Moguilevsky (clarinet, bass, soprano sax, wooden flutes, harmonica, bagpipe and duduk) and César Lerner (piano, accordion and percussion), combine Argentinean folk music, jazz, contemporary music and tango. This is the Boston debut of this amazing Argentinean duo.
Shura Liposvsky
Considered Europe's finest female klezmer singer, Shura Lipovsky has been a pioneer in spreading Yiddish folksongs since the 1970's. She is a member of Musicians without Borders, an internationally active organization aiming to use music to bring disputing factions together. She will be performing with Lerner & Moguilevsky.
Tickets are $25 and $36 and are available by clicking here.
For further info: bostonjewishmusicfestival.org/events