Lerner & Moguilevsky, Portsmouth, NH, 3 March 2013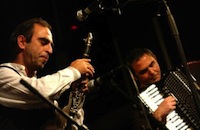 Klezmer Buenos Aires with Lerner & Moguilevsky
Sun, 3 Mar 2013, 4:00pm
Temple Israel
200 State St.
Portsmouth, NH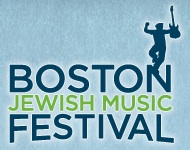 Don't miss BJMF Artists-In-Residence César Lerner and Marcelo Moguilevsky as they bring their unique klezmer-tango-folk-jazz fusion from Buenos Aires to Portsmouth, NH. Playing together for 27 years, César and Marcelo have developed their own musical language that is virtuosic, creative and passionate. Reviewers call their performances, "ecstatic," "unblushing" and "sassy."
$20 in advance, $25 at the door, $15 students. Click here for tickets.
Made possible with support from the Jewish Federation of New Hampshire.
For further info: bostonjewishmusicfestival.org/events