Itzhak Perlman, Yitzchak Helfgot, Boston, MA, 3 March 2013
Itzhak Perlman and Yitzhak Meir Helfgot: Eternal Echoes
Sun, 3 Mar 2013, 7:00pm
Symphony Hall
301 Massachusetts Ave
Boston, MA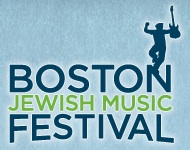 Combining the exceptional gifts of violinist Itzhak Perlman with pre-eminent Israeli cantor, Yitzchak Meir Helfgot and the heartfelt musical direction of Boston's own Hankus Netsky, this is sure to be one of the most powerful Jewish music concerts of our time. Eternal Echoes weaves an broad tapestry of music, both sacred and secular, classical and popular. The Boston Jewish Music Festival is proud to be a marketing partner for this exceptional concert of Jewish music presented by the Celebrity Series of Boston.
Further, we invite you to join us at a special reception following the concert for dessert and a sparkling toast to honor Mr. Perlman, Cantor Helfgot, and Hankus Netsky as well as to celebrate the fourth annual Boston Jewish Music Festival. Reception tickets are limited.
For complete ticket info, click here.
For further info: bostonjewishmusicfestival.org/events