Daniel Kahn and The Painted Bird, Jamaica Plain, MA, 6 March 2013
Daniel Kahn & The Painted Bird
preceded by a dinner discussion w/Leonard Fein: Pizza and the Progressives
Wed, 6 Mar 2013,
6:30pm - Pizza and the Progressives
8:00pm - concert w/The Painted Bird
Milky Way Lounge
284 Armory Street
Jamaica Plain, Boston, MA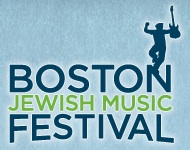 Discussion:Order your own dinner and share in a pre-concert table discussion about the art and politics of the Yiddish progressive movement with Daniel Kahn and noted writer and educator, Leonard Fein.
Concert: Daniel Kahn concocts a mixture of Klezmer, radical Yiddish song, political cabaret and punk-folk, bound together by his unique talents as a songwriter, translator and performer. He tells stories of outrageous incidents, poetically dark, tragically humorous and politically incorrect. Described as 'the Yiddish Pogues,' Painted Bird's music straddles the borders between radical & traditional, lyrical & political, East & West, folk & punk, mama loshon & loshon hora. This is a rare opportunity to experience a great musician who finds inspiration in the poetry and music of Jewish protest.
Tickets: $15 in advance, $20 at the door and can be purchased by clicking here.
Please note that the Milky Way room where the live performance is taking place is standing room only; in the the seated restaurant the concert is shown live on multiple HD monitors and sound system. Your tickets assures you entry into the Milky Way Lounge but not necessarily the standing room only space.
Presented in cooperation with Boston Workmen's Circle Center for Jewish Culture and Social Justice.
For further info: bostonjewishmusicfestival.org/events