Electro Judeo Dance Party, Somerville, MA, 7 March 2013
THE ELECTRO JUDEO DANCE PARTY: MAZAL (AMERICAN DEBUT) AND STEREO SINAI
Thu, 7 Mar 2013, 8:30pm
Johnny D's
17 Holland St.
Somerville, MA, MA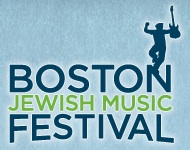 Making their American debut, France's Mazal combines centuries-old Sephardic songs and chants with today's electronic sampling and dance beats. What happens when the ancient music of exiles meets the electronic rhythms of today? The dance floor fills up!
Opening for Mazal, Stereo Sinai's signature sound is "Biblegum pop," a heretical combination of ancient, holy tongues with blasphemous backbeats and synthesized pop melodies. If Gwen Stefani and Will.i.am had been on the mountain with Moses, they would have come down sounding a lot like Stereo Sinai.
Tickets: $15 in advance, $20 at the door. Click here to purchase general admission tickets.
FOR DINNER/TABLE RESERVATIONS: Johnny D's is a mix of general admission standing room and reserved table seating. To guarantee a table, purchase Premium Dinner/Show tickets or Standard Dinner/Show tickets. Premium requires customers to spend a $20 food minimum night of show, Standard requires customers to spend a $12 food minimum night of show. Does NOT apply to alcohol. Tax and gratuity charged night of show. Any unreserved tables will be open first come, first serve 15 minutes before music begins. Table reservations are available by clicking here.
This event is sponsored by The Network Boston to introduce young adults (22-40) to the many arts and culture opportunities available in the Greater Boston Jewish community. Presented in partnership with the French Consulate and New Center NOW.
For further info: bostonjewishmusicfestival.org/events