Guy Mendilow Ensemble, Nashua, NH, 9 March 2013
GUY MENDILOW ENSEMBLE: TALES FROM THE FORGOTTEN KINGDOM
Sat, 9 Mar 2013, 8:00pm
Temple Beth Abraham
4 Raymond St.
Nashua, NH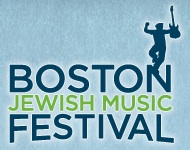 Get ready for an emotional voyage awash with warm harmonies, intricate textures and spellbinding rhythms. Starting in ancient Spain and winding through Sarajevo, Salonica and Jerusalem, the award-winning Guy Mendilow Ensemble brings to life the adventures and legends of traditional Sephardi songs, sung in the endangered Judeo-Spanish language, Ladino. Experience Ladino music, re-imagined by a team of internationally recognized musicians and spearheaded by charismatic Israeli composer/performer Guy Mendilow.
Tickets: $20 in advance, $25 at the door. Click here to purchase tickets.
Made possible with support from the Jewish Federation of New Hampshire.
For further info: bostonjewishmusicfestival.org/events