Ellen Allard Family Concert, Newton, MA, 10 March 2013
Ellen Allard & Friends
A morning of family fun
Sun, 10 Mar 2013, 11:00am
Leventhal-Sidman JCC
333 Nahanton St.
Newton, MA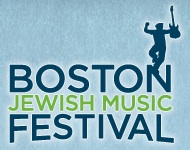 Join Ellen Allard and friends for an entertaining, interactive hour of musical merriment. Be prepared to sing, shout and dance along with this irresistible, award-winning Jewish children's performer and educator. Few musicians combine such fun Jewish content with such excellent musical and performing skills. Ellen is back by popular demand after presenting one of the highest rated shows at the 2012 BJMF.
In Advance: $10 per ticket, $40 family maximum. Purchase advance tickets here.
At the door: $12 per ticket. $45 family maximum
Presented in cooperation with PJ Library® and the Jewish Community Centers of Greater Boston. A program of the Ryna Greenbaum JCC Center for the Arts.
For further info: bostonjewishmusicfestival.org/events