Guy Mendilow Ensemble and the Epichorus, Lexington, MA, 10 March 2013
New Harmony: A Concert of Two Multi-Ethnic Ensembles
Guy Mendilow Ensemble and Epichorus
Sun, 10 Mar 2013, 7:00pm
Temple Emunah
9 Piper Rd.
Lexington, MA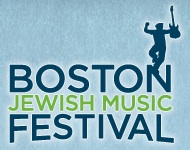 BJMF proudly presents two groups committed to interfaith cooperation, ethnic diversity, and the preservation of Jewish musical traditions.
The Guy Mendilow Ensemble will perform Tales from the Forgotten Kingdom, new interpretations and arrangements of Ladino folk songs. Led by Guy, an Israeli citizen who has also lived in South Africa, the group features Irish, Japanese, Israeli, and Palestinian musicians whose very diversity adds great richness to the music and the concert-going experience.
The Epichorus, featuring Zach Freeman, a New York rabbinical student, and Alsara, a Sudanese Muslim singer, is a multi-ethnic band performing Hebrew and African love songs "to create music that transcends the boundaries of culture or religion." Their story and sound is nothing less than magical and has been featured in the Huffington Post and Tablet Magazine.
Tickets: $20 in advance, $25 at the door, students $15. Purchase tickets here.
For your artistic inspiration, and maybe a little shopping, too, an Israeli art show and sale taking place at the temple will remain open that evening.
Presented in partnership with Lexington's Temple Emunah and Temple Isaiah.
For further info: bostonjewishmusicfestival.org/events