Isle of Klezbos, NYC, 25 Jul 2013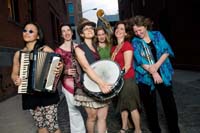 Isle of Klezbos premieres at The Jewish Museum's "SummerNights" series!
Thursday, July 25, 7:30pm
The Jewish Museum
1109 5th Ave at 92nd St
NY, NY 10128
Tickets $15/Student & seniors $12/Members $10.
212-423-3200
www.thejewishmuseum.org/summernights
Live band, great art, free beer & wine. Auditorium doors open 7pm; Isle of Klezbos plays from 7:30pm.