Lisa Gutkin, City Winery Brunch, NYC, 11 Aug 2013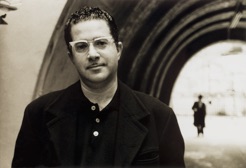 Every Sunday Morning, combining live music and food in a fresh, cultural environment, City Winery's Klezmer brunch series pairs some of the greatest musicians in the world with delicious lox, bagels and other tasty fare on Sunday mornings from 11am to 2pm. City Winery's brunch on Aug. 11, 2013 features Lisa Gutkin.
Can one artist be both unpredictable and a surefire bet? If that artist is Lisa Gutkin, the answer is an emphatic yes! As the longtime violinist for the Klezmatics, the Grammy-winning outfit that has taken Jewish klezmer music to previously unimaginable places, Gutkin has consistently proven a masterful musician and a boundlessly creative force. But, in her solo performances and in collaboration with other musicians, Gutkin might swing seamlessly from traditional Irish fiddle tunes to a blues, to Balkan or bluegrass sounds. Or she might just put the violin down altogether, pick up a tenor guitar and sing one of her own universally resonant compositions.
General Admission: $10 / Children Under 13 - Free
City Winery
155 Varick Street
New York, New York 10013
(212) 608-0555
For further info: www.citywinery.com