Kugelplex, San Francisco, CA, 1 Dec 2013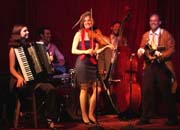 Kugelplex
December 1, 2013, 1-3pm
Klezmer Sunday Brunch Pop-up
Salle Piano & Events
1632 C Market St, SF
$10-$20 sliding scale, plus donation for food
At long last: Kugelplex Klezmer Sunday Brunch Pop-up is back! Grandma's kugel, momma's latkes, subpar West Coast store-bought bagels, Maimonides' secret mimosa recipe and the biggest heapin' pile of shtletl-rockin' old world soul this side of Great Great Great Uncle Irv's Bessarabian Bar Mitzvah circa 1843.
And sooo many more surprises, all taking place in a beautiful new(ish) venue called Salle Piano & Events — a showroom/performance space featuring exceptional collectible pianos (one of which will be played for you by our very own keyboardticklemeister, Dan Cantrell).
Come eat, dance, celebrate.