Klezwoods @ Celtics Game! Boston, MA, 3 Dec 2013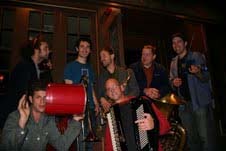 Klezwoods and The Celtics!
Dec. 3, 2013, 6:45-7:30
Free with Celtics Ticket
Klezwoods is performing for Jewish Heritage Night at the TD Bank Garden for a Celtics game on December 3rd from 6:45-7:30pm. This is the band's first performance at a pro basketball game, and it's for our boys in Green! Go Celtics!