1st JewJamSouth, Blue Ridge Mtns, GA, 10-13 Aug 2014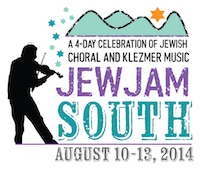 JEWJAM SOUTH!
JewJamSouth will take place on August 10–13, 2014, at Ramah Darom's campus in the beautiful North Georgia mountains. The event is designed for passionate Jewish choral singers, klezmer instrumentalists, Hebrew and Yiddish singers and their families. Whether you are an experienced practitioner or a newcomer, this four-day festival will offer a feast of musical inspiration, ideas and fun.
JewJamSouth is open to people of all levels and backgrounds, and no previous experience is needed. Beginners are welcome.
Throughout the four days, you'll have a chance to participate in a hands-on ensemble program and study, perform and be mentored by world-renowned faculty:
Email Bennie Cohen with any questions, and register now, as spots are filling up quickly!