Alicia Svigals @ LABAlive, NYC, 21 May 2014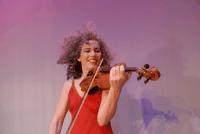 LABAlive presents: Mothers without Borders
w/Alicia Svigals, and more!
Wed, May 21, 7:30pm
14th St. Y
344 E. 14th St.
NYC
Tickets: $18
More info: www.labajournal.com/labalive/
A salon-style evening of music, theater and art inspired by ancient Jewish texts.
Tickets $18. Running Time 90 minutes. Wine, snacks and schmoozing to follow.
Three new works from 2013-2014 LABA Fellows explore what happens when mom decides to take matters into her own hands.
MUSIC: "Seduction in Eynaim: A Maternal Song Cycle" by Alicia Svigals
Klezmer violinist Svigals weaves together original settings of poetry and Biblical texts in Yiddish, Hebrew and English to create a musical work that speaks of fertility, fear and longing; and the double-edged helix of inheritance across generations of women. With Svigals on violin and vocals and virtuoso William Schimmel on accordion.
THEATER: "Mrs Klein" directed by Elinor Renfield (Staged Reading of an Excerpt)
Broadway's Renfield will direct Nicholas Wright's 1988 play based on the life of the brilliant and controversial psychoanalyst Melanie Klein. The play looks at the disagreement between Klein, a renown explorer of the infant psyche, and her daughter, also a psychoanalyst, on how best to raise children. Many boundaries are crossed. Featuring Robin Leslie Brown, Margo White and Elinore Handley.
ART: "Mother Tongue" by Yael Kanarek
Boundary-busting media artist Kanarek will present a collection of language-based fine jewelry inspired by mother-themed texts in Hebrew, Yiddish and Aramaic. The jewels are created in an original typeface she designed for this collection.
LECTURE: "Tamar"
Rabbi Shira Koch Epstein will discuss the story of Tamar, who made herself a harlot in order to become a mother. A look at what happens when mothers make themselves the protagonists of their own stories.