Kugelplex klezmer brunch, San Francisco, CA, 14 Sep 2014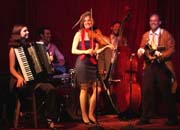 Bagels and Bellies Klezmer Brunch featuring Kugelplex and the Shtetl Shakers
Sun, Sep 14, 2014, 1pm-3pm
Salle Piano & Events
1632 C Market St,
San Francisco, CA
$10-$20 sliding scale
Kugelplex is cooking up a Sunday brunch concert extravaganza! Nosh on bagels and other delights while grooving to Klezmer and the shimmy-tastic belly dance stylings of the Shtel Shakers – featuring Elizabeth Strong, Natalie Nayun, Erica Lingrell &amp Lisa Tilton.
Salle Pianos and Events is our new favorite small venue in the Bay Area. The space is a gorgeous showroom for vintage collectible pianos and it's also the perfect room for deep listening of chamber music – with plenty of space to push away your chairs and dance.
The concert will feature original music by Dan Cantrell performed on one of Salle's remarkable pianos.
Eat! Dance! Buy a piano! Celebrate your Sunday!