KlezWoods Klezmer Christmas 2014, Cambridge, MA, 16 Dec 2014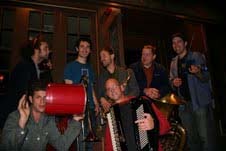 Klezwoods
Tuesday, December 16, 9:30pm - 11:30pm Atwood's Tavern 877 Cambridge St, Cambridge, Massachusetts 02141 Tix:
www.brownpapertickets.com
Atwoods Tavern, one of Cambridge's favorite watering holes, presents the 8th annual Klezwoods Klezmer Christmas show. In a spectacle of sound, the event explores Klezmer and Eastern-European inspired original ensemble compositions and new takes on traditional music from Eastern Europe. Small ensembles switch it up with eclectic instrument arrangements, highlighting each musician's improvisational and melodic stylings. Deemed "An Utterly Unique Circus of Sound" by Boston Metro, Boston-based, 10-member ensemble Klezwoods is an amalgam of strings, horns, and percussion that melds the spirit of traditional klezmer and balkan music with modern grooves, improvisation and east coast attitude. Their performance will feature an entirely new set of original Klezwoods compositions that will be featured in their upcoming album, "Toy Monkey" Come for the music, good food and drink in the place that the ensemble got their start. Two sets of music, fun times will be had by all.