Yale Strom & Elizabeth Schwartz, Laguna, CA, 1 Feb 2015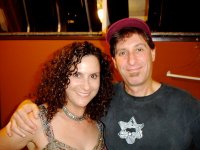 Yale Strom & his six piece band.
Hot Pstromi roots of jazz
FEB. 1, 2015
Clubhouse 3
Reform Temple of Laguna Woods Village, Laguna, CA.
For tickets and information: 580-1160
The purchase of $50.00 Patron tickets include a reception following the Show. All other seating - $35 and $25 seating will be available for purchase at the Clubhouse 3 Ticket Window starting Jan 2.