"J. Edgar Klezmer", Hackettstown, NJ, 12-15 Feb 2015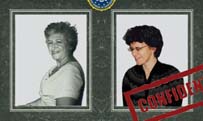 "J. EDGAR KLEZMER: Songs from My Grandmother's FBI Files"
four-day run at Centenary Stage Company! Musical documentary theater by Isle of Klezbos drummer/bandleader Eve Sicular, starring Isle of Klezbos' Missy Fogarty & bandmates Shoko Nagai, Debra Kreisberg, Reut Regev, with Eve Sicular, and featuring Yelena Shmulenson. Stories stranger than fiction from the life & declassified documents of Dr. Adele Sicular (grandma of Eve).
February 12-15, 2015. Directed by Gwenyth Reitz.
Kutz Theatre, Centenary Stage Company
Centenary College,
Hackettstown NJ
Thursday evening, Feb 12 at 7:30pm
Friday & Saturday nights, Feb 13 & 14 at 8PM
Sunday matinee, Feb 15 at 2PM
Info & tickets: 908-979-0900
centenarystageco.org/isle-of-klezbos.php
As developed at JCC Manhattan, Puffin Cultural Forum & Dixon Place:
klezbos.com/j-edgar-klezmer